Guinness Book of World Record Largest Boat Parade Attempt
Lake of the Ozark, Missouri
June 11, 2022
We would like to thank everyone that participated in the 2nd attempt to set the world record for the Largest Boat Parade. Unfortunately, we fell short of the record. But, we did have some good boating weather and had a fun time in our world record attempt. We had boaters from 10 different states; Missouri, Kansas, Iowa, Illinois, Indiana, Mississippi, Colorado, Nebraska, Texas, and Wisconsin visit the Lake of the Ozarks to participate in the record attempt.
We would also like to thank all of the sponsors and volunteers that assisted with the boat parade. We would not have been able to make another run at the record without your support.
Purchase An Official Boat Parade Flag
We still have official Guinness World Record Attempt #2 World Largest Boat Parade flags available. If anyone would like to purchase a flag they can call the Lake of the Ozarks CVB office at 573-348-1599 or email info@funlake.com. The cost of the flag is $15 and includes shipping/handling. Or you can pick up a flag in person at the Lake of the Ozarks CVB office for $5 cash. The LOCVB office is located at 985 KK Drive, Osage Beach, MO 65065 and open Mon - Fri 8 am to 5:00 pm (we will be close at 12 pm July 1st and closed July 4th).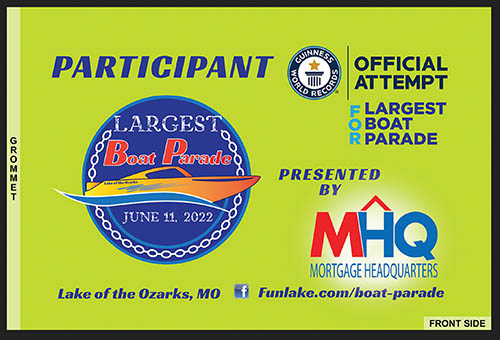 T-Shirts are also still available. To order visit the Boat Parade store to order your World's Largest Boat Parade shirts.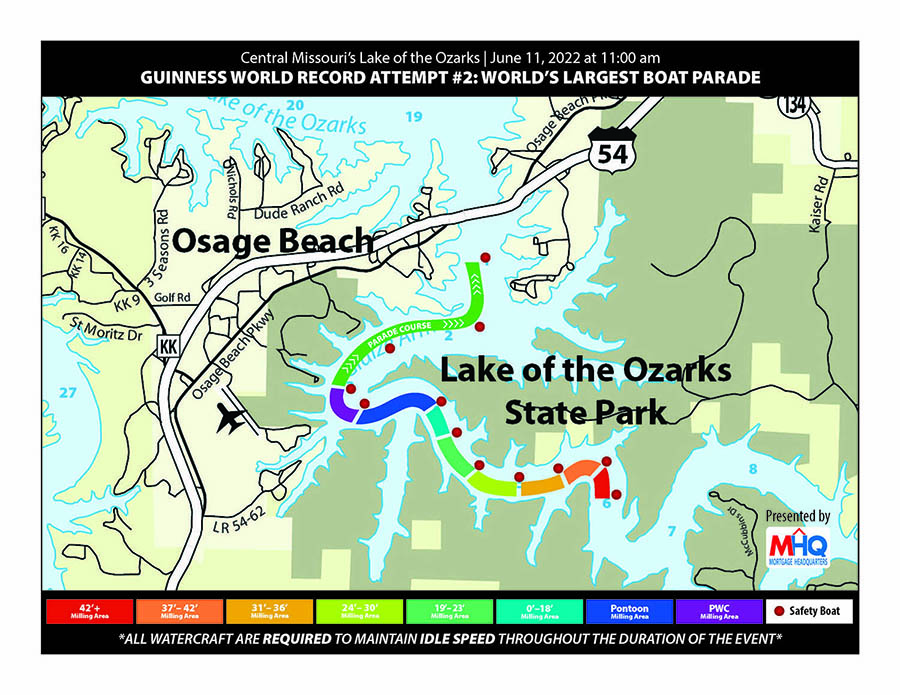 2022 Boat Parade Sponsors
Become A Sponsor Of The 2022 Boat Parade
Title Sponsor
Event Sponsors
Media Sponsors