Jerkbait Winter Fishing Tips

Jerkbait Winter Fishing Tips
In the past I did not like bass fishing in the winter. It took me a long time to learn how to become a better angler in the coldest months of the year. I've learned a lot in the last few years especially during the winter of 2012, when we experienced a very mild winter. Most years, our lake temperature bottoms out at about 39 degrees. The colder it gets, usually the harder fishing is for me. The shad kill really sets in when the water gets extremely cold and it's hard to get bass to bite when this happens. If a couple shad are dying that's fine and sometimes preferred, but if too many are turning sideways it means you'd better leave that area. This year it never got much below 42 degrees and fishing remained steady throughout the dead of winter. I've learned that fishing really is great in the winter, but because it comes with a lot of unproductive water, you have to make the right choices on where to fish.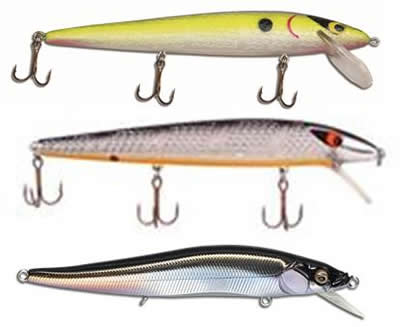 The most popular jerkbait worldwide is the Rapala minnow. The most used by tournament fishermen today is the Megabass. The most used jerkbait over the last 20 years on Lake of the Ozarks is the Smithwick Rogue. They all share a similar long and slender body. Technically, jerkbaits are in the crankbait family of lures. These baits excel in the winter months because they mimic a struggling shad. Bass in the winter often suspend, and this makes them the toughest type of bass to catch. Here in the Ozarks we have become very good at catching these hard to reach fish in the winter with jerkbaits. We often use suspending jerkbaits, which are baits that run to a certain depth (usually about five feet) and do not sink or rise too quickly. It's important to have a properly weighted bait because bass do not want to expend much energy in the winter. You can use Storm® SuspenDots™ or SuspenStrips™ to add a bit of weight to your bait if it floats more than you want it to. Also, lead wire wrapped around the hooks can add weight; tungsten putty (called sticky putty) also works well.
Everyone uses jerkbaits in the wintertime and, as the name implies, you jerk, wait a second, jerk, wait a second, jerk, wait 15 seconds, and repeat. Change up your cadence to match the mood of the fish. The colder the water the slower you work the bait. Several guys will wait up to a minute in between jerks, but I've never been one to work a jerkbait that slowly. My typical cast lately takes about one to two minutes at most. However, there are other fishermen whose casts last three minutes or longer, which is brutal!
The lower end of the lake is traditionally the most consistent area to provide good winter action. The lower Glaize can be good, and the Gravois arm is also great. There are four main places to fish a jerkbait: a point, a creek channel bank, over a brushpile, or on a bluff end. Cast to the rocky shoreline and get the bait to the desired depth, usually a few feet down. Twitch your rod tip with some slack in your line to make it snap similar to working a topwater bait. You want to have at least several feet of water below your boat. These fish are generally suspended, and you're going to be calling them up to feed. Fishing windy or shady areas makes it easier for the bass to move up to your bait. Windy points can be main lake or secondary points. Secondary points are my favorite. Creek channel banks are steep rocky banks with 45-degree angles to them where the old creek channel comes close to the bank. They are great for jerkbaits this time of the year and on into the spring. Find a stretch without a lot of docks so you can make some long casts down them. A good chunk rock bank with wind, shade, and some baitfish in the area is ideal. I generally prefer clear water with enough wind that it breaks up the surface and hits the bank.
Jerkbaiting brushpiles is another technique often used on Lake of the Ozarks. For this technique it is best if you fish brushpiles you already know about. You want to make specific casts to the brushpile and work your bait slowly by the submerged tree. Working your lure just above a specific spot helps you be more patient in between your jerks. By allowing your bait to simply soak for a long time you can draw some of the biggest bass of the whole year. An added bonus this time of the year is the giant crappie that can be caught while you are bass fishing. Crappie love hanging around brushpiles, and the four- to five-inch long jerkbaits can trigger some true slab-sized crappie.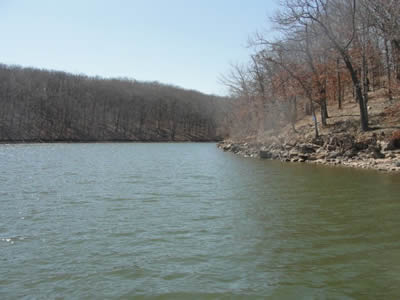 The bass spend most of their time in the winter in coves with steep banks and secondary points. Good conditions will help pull the fish up in the water column and make them occasionally feed. Fishing an area where there are baitfish is helpful but not mandatory. You should be seeing fish occasionally on your electronics. Fish those areas thoroughly by making multiple casts to any area that holds fish. Winter fish group together, and catching a limit of quality bass off one small stretch of bank or point is not uncommon. Then, remember that spot and return next winter.
The best rods are medium action 6' to 6'6". The length of the rod you should use depends on how tall you are. I'm 5'10" tall, so a 6'2 or 6'3" rod is ideal. My favorite rod is a 6'3" medium action Garcia Vendetta, but another really nice rod is the new smallmouth series from Fenwick. I also fish it in a 6'3" medium action in a casting rod or a spinning rod. You will want to fish a good baitcasting reel also. Compared to most lures, jerkbaits can be troublesome to cast with a baitcaster because they can more easily backlash. Spinning rods are also nice for jerkbaits and offer a change to give your wrist a different motion. After several days of fishing a jerkbait, your wrists can become tired and a spinning rod can be a nice change. Eight or ten-pound line is what I suggest to help you maximize lure depth. Plus, clearer water is preferred and lighter line with help you get more bites.
Some of the brands of jerkbait that I caught fish with this winter are Megabass, Lucky Craft, Lucky Strike, Smithwick Rogue, Berkley Frenzy, and Sebile. Many of these baits are $10 to $25, and special year models or hand-painted models cost even more.
Have you ever wondered why some of these baits are so expensive? The reason is that the bass literally study these baits 10 times as long. They look at a typical lure for a moment and make a choice to eat or not. Fishermen have to fish slowly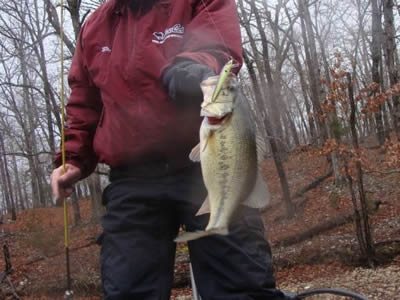 with jerkbaits because of the colder water temperatures. The fish learn obvious color schemes and even learn particular baits after months and months of regular use. That is why companies like Megabass and Lucky Craft have been so popular for so many years. Lifelike colors and one-of-a-kind, unique paint jobs make a big difference when it comes to jerkbaits. More than any other bait, it is important to make your bait a little different than what everyone else is throwing. Red hooks, gill slits, fingernail polish, Spike-it lure dye, and even permanent markers can easily make a difference for you so that you don't have to spend $30 on a bait. Berkley Frenzy baits work just fine for me after I tweak them the way I like.
Now I even look forward to the winter. Most days you're going to be around some good fish with a chance of catching a real giant. The highest tournament stringers of the year come in the winter on a very regular basis and sometimes exceed 25 pounds.
For more tips, videos, articles, and daily fishing reports, make sure to check out bassingbob.com.