Lake of the Ozarks Family Fun Vacation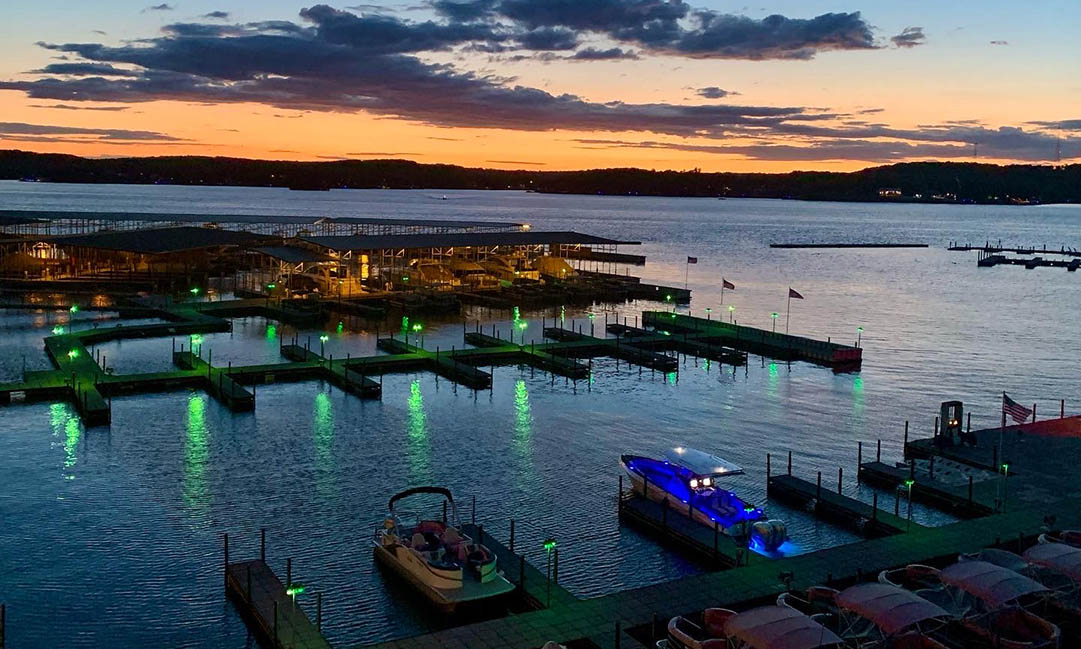 Lake of the Ozarks Family Fun Vacation
Lake of the Ozarks is the perfect place to satisfy your family's vacation cravings for food, fun and adventure.
By Wendy Pramik
When our family of four sits down for dinner, it's no big deal if each of us eats something different. After all, I'm a vegetarian. My husband, Mike, craves steak. Our daughter, Rosie, loves chicken, and our son, Max, could eat pasta any night of the week.
A family vacation at Central Missouri's Lake of the Ozarks, we learned, is a lot like our dinner table – there's something satisfying for everyone. It doesn't matter if you're a water enthusiast, a nature lover or a thrill seeker, or if you just want to get away and chill, Lake of the Ozarks is the perfect place to satisfy your family's vacation cravings for food, fun and adventure.
We started planning a summer trip to the Lake of the Ozarks a few years ago, but scheduling conflicts and the COVID pandemic delayed our visit to this acclaimed family vacation spot. We were excited to finally be able to make the trip. We had only four days at the Lake, so we made sure to do our research so we could make the most of our vacation time. After checking out all the local attractions and lodging options on www.FunLake.com, we decided that a condo would be the best fit for our family. And what a great decision that was!

Where We Stayed…Lakeside living
We chose a gorgeous second-floor, two-bedroom, lakefront unit at Bridge Pointe Condos from Your Lake Vacation. It was a perfect fit for our family and provided a peaceful perch overlooking the lake where we could enjoy the sunrise and sunset and a pleasant parade of passing boats. Our condo was centrally located in Osage Beach, making for an easy drive to all our family adventures, which made logistics super simple. Plus, there was a nice swimming pool that we could enjoy in our downtime.
In the evenings, while sitting on our balcony, we could faintly hear live rock music coming from Dog Days Bar and Grill across the lake. Mike and I enjoyed listening in as we sipped cool drinks and took in the beautiful sunsets.

Where We Played…The Dam and The Strip
We began our Lake of the Ozarks adventure at Willmore Lodge, an impressive Adirondack-style structure that operates as a museum and visitors center in Lake Ozark.
Inside, we learned about the construction of the Bagnell Dam, which was completed in 1931. We also learned about a fun and funky collection of restaurants, bars and souvenir shops nearby, along Bagnell Dam Boulevard, referred to as "The Strip." So that's where we headed.
We drove across Bagnell Dam and up The Strip, checking out the interesting sights along the way.
"What's that?" exclaimed Max, pointing out the window toward a lime green, red and blue structure growing on the horizon.
"I'm not sure," said Mike. "Let's investigate."
The structure in question was the Malted Monkey, a zipline and steel ropes course that weaves above their restaurant.
"Genius!" I said. "The kids can work off some steam climbing while we relax and eat."
However, it didn't quite end up that way. Mike and Rosie hung out below and had the restaurant's signature "Smashburgers" and milkshakes, as Max and I maneuvered the courses above. We donned safety harnesses and learned to work a simple pulley system. Max worked his way around the courses with ease as I was a bit more reluctant. Getting over a fear of heights was easier said than done. But once I felt what it was like to dangle from a line while securely fastened to a pulley system, bravery set in.
Once we were back on the ground, we joined the others in a lunchtime feast.
Our other adventures along the Strip included a visit to Dogpatch Arcade to sink quarters into rows of pinball machines and rack up points playing Skee-Ball. Afterward, we hopped back into the car and drove to the lushly landscaped Sugar Creek Mini Golf Course to shoot for low scores during a round of putt-putt.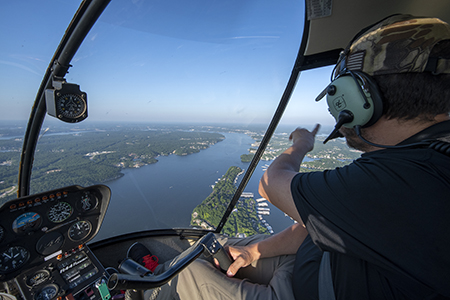 Getting Some Air
It's hard to comprehend the size of this place unless you get above it. That's exactly what Max and I did during our thrilling tour with Lake Ozark Helicopters, which offers a handful of aerial tours that highlight the natural and manmade wonders of the Ozarks. We chose the Ultimate Tour, which takes off from a launchpad along Bagnell Dam Boulevard and lasts 20 minutes and covers 25 miles.
This was our first helicopter flight, but our pilot made us feel comfortable and at ease. Before we knew it, we forgot our fears and became enraptured by our view.
"There's the dam," Max said, pointing at what looked like a bridge over a river.
Our pilot pointed out the Strip and glamorous homes on Millionaire's Row, and we saw the serpentine shape of the large lake. What was neat was seeing places we'd been and places we'd soon go, like the pristine woods of Lake of the Ozarks State Park. From above, the park looked dense with trees, contrasting the commercial areas. At a glance, we could easily see how the lake appeals to varying interests.
"I bet your dad would love to go there," I said, pointing at a golf course on the horizon.

Picture Perfect Parks
We discovered that Lake of the Ozarks State Park and Ha Ha Tonka State Park were two amazing places that really highlight the area's natural beauty. The lake's state parks are a great option for families because admission to all Missouri state parks is free!
Lake of the Ozarks State Park is Missouri's largest state park, and its trails are idyllic for hiking, horseback riding and mountain biking. Plus, you can camp at primitive and more-modern campsites or stay in rustic cabins or cool yurts.
Lake of the Ozarks State Park offers an aquatic trail with waypoints that reveal unique features of the lake.
The friendly staff at the park's well-stocked marina set us up with an easy-to-steer pontoon boat so we could spend a few hours exploring the 9-mile aquatic trail using the GPS coordinates mapped out online. We navigated to a series of ancient limestone and dolomite lake reefs and a stone arch called Nature's Window, formed by centuries of water erosion. The aquatic trail was a relaxing and educational way to spend a few hours out on the water.
We also explored Ha Ha Tonka State Park in nearby Camdenton.
The four of us hiked a short distance to the ruins of a castle built by the sons of Kansas City tycoon Robert M. Snyder. It was planned as a 60-room mansion, but after Snyder's premature death, his sons completed a smaller structure in 1922. It eventually came to ruin, yet much of the castle still stands, including the original caretaker's tower.
The park includes more than a dozen other trails, one of which leads to the incredible turquoise-colored Ha Ha Tonka Spring. Our family chose to hike to the Natural Bridge, a beautiful arch of stone formed after the surrounding land eroded. It was noticeably quiet and peaceful as we made our way carefully down a hill and under the bridge. It's no wonder that CondeNast Traveler named the park the "most beautiful place in Missouri."

Underground Fun
Even though the Lake of the Ozarks is spread throughout three counties, you're always just a short drive to amazing attractions and activities. After our hikes at Ha Ha Tonka we drove 15 minutes to Bridal Cave, a remarkable underground wonder. We loved exploring the many well-lit formations that included stalactites and stalagmites, onyx formations and the deep "mystery lake." Our friendly and knowledgeable guide said more than 4,000 wedding vows have been exchanged there over the years in one extraordinary expanse, and that's easy to believe – it's one of the reasons Glamour Magazine named Bridal Cave as one of the top 10 "craziest most-awesome places to get married."
We only had time to explore Bridal Cave but there are three other show caves in the lake area and most are open year-round for tours. Maybe next time…
Go Fish!
Scores of families like ours visit Lake of the Ozarks for on-the-water fun. A huge draw to the area is fishing, and for good reason – the lake offers some of the best fishing in the world.
It's easy to fish at the lake, even if you're a first timer, by hiring a local guide who can set you up with all you need, including gear, tackle and bait. We were lucky enough to go out for a morning on the water with a professional tournament angler who gave us a tour of the lake in his bass boat, shared some helpful fishing tips and showed off his angling skills. Our guide was super nice and a memorable part of our vacation. We really enjoyed watching him reel in fish after fish (even in midday).
One of the highlights for Max was the fact that he out-fished his dad on this trip and he wasn't quick to let Mike forget it.

On-the-Water Fun
In addition to fishing, there are plenty of other popular on-the-water activities, including boating, parasailing, wakeboarding, skiing, tubing, kayaking and paddleboarding.
If you'd like to get out on the water, there are numerous marinas and resorts that rent a variety of boats and watercraft by the hour, the day or the week. And, there are three luxury yachts that offer 90-minute, scenic narrated cruises, too.
After our fishing excursion, we tried our hands at paddleboarding at Super Dave's Paddle Craft Adventures, in Sunrise Beach. Super Dave's offers standup paddleboards, kayaks and pedal boats.
After some basic but helpful instruction and encouragement by co-owner Dave Bertel, Max and I climbed aboard our paddleboards. Once we got our balance, we paddled into the tranquil Lynch Hollow Cove, spending a couple of hours exploring and jumping off our boards into the water to cool off. Rosie stayed ashore, cheering us on from the sandy beach while making friends with Dave's teenage daughter. Where was Mike during our paddling adventure? He enjoyed a much-deserved afternoon on one of the lake's championship golf courses.

Tee it up!
When our family heads out to play in the water, Mike often keeps to dry land and goes in search of the serenity of a local golf course. While Lake of the Ozarks certainly has water adventure covered, it's also a grand place to tee it up, which Mike, who is an avid golfer, was very excited about.
The Lake of the Ozarks Golf Trail boasts a dozen courses that showcase, in addition to the lake, the natural beauty of the area's rolling hills, limestone bluffs and verdant valleys. Due to our limited time at the lake, Mike had to choose just two of the courses.
Mike chose to play the courses at Osage National Golf Resort and Old Kinderhook Resort, two of the Golf Trail's marquee courses.
Osage National is Missouri's first Arnold Palmer Signature Course and features three 9-hole courses, each with a unique character. According to Mike, the River/Mountain combination includes several blind tee shots and a couple of eye-popping layout surprises, hallmarks of many of Palmer's course designs.
Old Kinderhook is consistently ranked as one of the best courses in Missouri. Mike thought the Tom Weiskopf-designed course was a challenging, yet fair golf experience. His favorite section of Old Kinderhook was the back nine, which provided several picturesque views of the lake.

Let's Go Out to Eat!
There's a boatload of restaurants around the Lake of the Ozarks (over 200!), so we were never without an option, whether it was a tasty breakfast, a quick lunch or a fine dinner. Many of the restaurants offer indoor and outdoor dining, some with spectacular views of the lake. Over 60 of the restaurants are located lakeside and offer dock and dining options. Considering the differing tastes of our family, the variety of options was welcome and made sure everyone had something delicious to enjoy. The smorgasbord of restaurants includes family-oriented eateries and others that combine fun with food, like the Malted Monkey, Franky and Louie's Beachfront Bar & Grill, Dog Days Bar & Grill and Captain Ron's Bar & Grill, to name just a few.
We found a classic breakfast place on the Bagnell Dam Strip – Stewart's Restaurant, which has been around since 1953. It's known as the home of the "Biggest Buns at the Lake," and that is certainly true – they had huge, warm, gooey cinnamon rolls that melted in our mouths. The omelets were delicious, too.
Our family enjoyed Stewart's so much that one morning, while Mike was golfing and the kids were sleeping in, I headed back to Stewart's but this time I ordered breakfast to go.
I returned to the condo with three orders of hotcakes, three bowls of fresh fruit and one oatmeal. I transferred the food to the pretty plates that were stored in the condo's cabinets. "Instant breakfast," I thought.
The kids rolled out of bed, eyes gleaming as they spied the breakfast on the screened-in balcony.
"Now this is what I call a vacation," beamed Rosie, drizzling syrup onto a Frisbee-sized pancake.
One day for lunch, our family was hungry for Mexican food, and, luckily for us, there are several great authentic options around the lake. We discovered Carmelita's in Gravois Mills where we dug into tasty chips and salsa, chicken fajitas and a veggie quesadilla.
For dinner one night we enjoyed delectable steaks, seafood and freshly ground burgers at Baxter's Lakeside Grill, along Bagnell Dam Boulevard (although not on the Strip). The cedar plank salmon was superbly prepared, crisp on the outside and silky inside, while the "Baxter's Duo" offered a tender, 6-ounce filet alongside succulent sea scallops. And the view from Baxter's overlooking the Lake of the Ozarks was just as remarkable as the food.

Year Around Fun
Our Lake of the Ozarks family vacation took place in the summertime, but there are plenty of things to do for families, both inside and outside, when the summertime crowds thin out.
Both state parks are open year-round, as are the golf courses, weather permitting.
Wintertime can be the perfect time to catch fish, when there's a lot less competition for the bass, catfish and crappies that populate the lake. Hire one of the lake area's many helpful fishing guides for a stress-free day on the water. Several local family resorts offer heated fishing docks for winter crappie fishing. Some even come equipped with couches and TVs so you can be as comfortable as if you were fishing from your own living room.
Old Kinderhook Resort in Camdenton has The Ice, the only outdoor ice-skating rink in Central Missouri, and it's open seven days a week during the winter months, for skaters of all ages. And, during the summer months, The Ice transforms into a sand volleyball course.
Family fun can be found indoors, too. The Jolly Mon Indoor Water Park at Margaritaville Lake Resort is open year around but shines like a toasty oasis on weekends during the winter. It offers 600 feet of water slides, a lazy river, an activity pool, and a huge whirlpool. Its three-story wilderness tree house has a 600-gallon tipping bucket, slides, bridges, water blasters and tunnels.
For more indoor entertainment, head to Miner Mike's Indoor Family Fun Center for miner-themed amusement rides and activities, arcade games, simulators and the largest indoor go-kart track of its kind in the country.
Looking for a holiday getaway? Don't overlook the Lake of the Ozarks. There are special events throughout every month of the year that the whole family can enjoy.
No matter what time of year your family visits the Lake of the Ozarks, you'll be sure to find plenty of fun for all. Whether it's hiking, fishing, boating, visiting state parks, swimming, splashing around at a water park, shopping or just relaxing, you can have it all and make memories that will last a lifetime.
For information on boating and fishing requirements, visit www.funlake.com.