Lake of the Ozarks Outdoor Adventures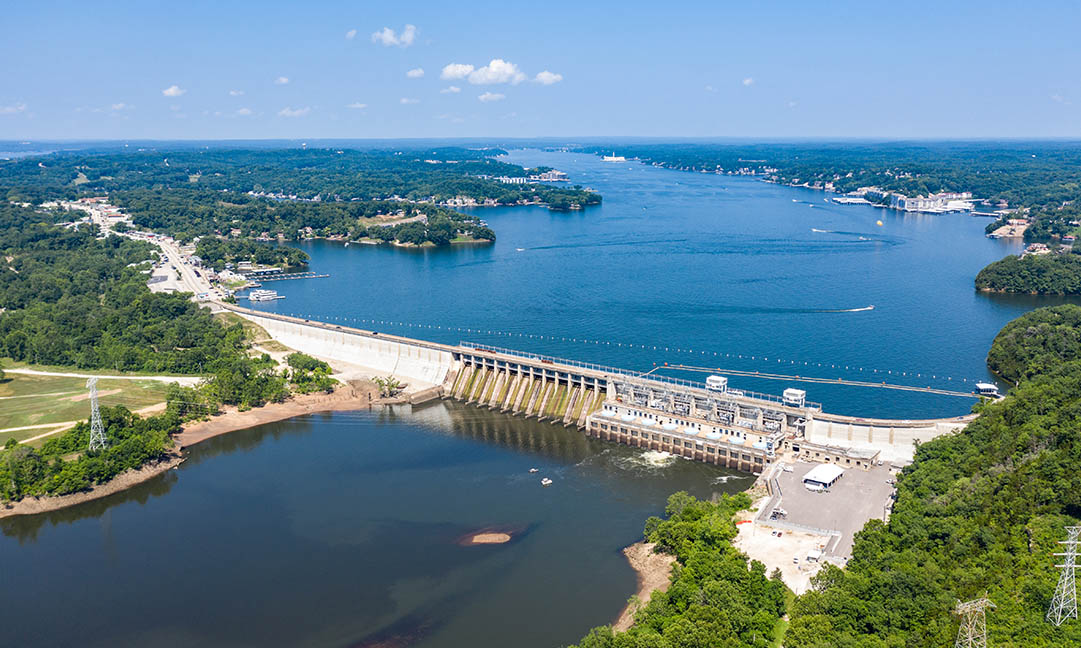 Lake of the Ozarks Outdoors Adventures
Lake of the Ozarks Outdoor Adventures by Air, Land, and Sea (or Lake)
By Jenn and Ed Coleman of Coleman Concierge
Living in northern Alabama and having traveled around the country, we had been hearing about the Lake of the Ozarks for years. But, until recently, we had never explored this outdoor playground that was named the Best Recreational Lake in the Nation by USA Today.
However, as soon as we were able to make the trip, we packed our bags, loaded our bikes, and pointed our car northward for Central Missouri. Naturally, this massive man-made lake (which has 1,150 miles of shoreline!) would be the muse of our 'by sea' adventures, but what about by air and land? Don't worry, we have you covered there too with two phenomenal state parks, gorgeous golf courses and a couple of outstanding overlooks.
If you live anywhere near the Midwest (or are planning to travel there) and love outdoor adventures like we do, please, keep reading. The beauty and diversity of Lake the Ozarks might just surprise you as it certainly surprised us. There are so many things to do that will inspire you to start planning your own adventurous getaway to Missouri's Magic Dragon. (Fun Fact: The Lake of the Ozarks' winding serpentine shape resembles a dragon when viewed from the sky, which is why it's been nicknamed the "Magic Dragon.")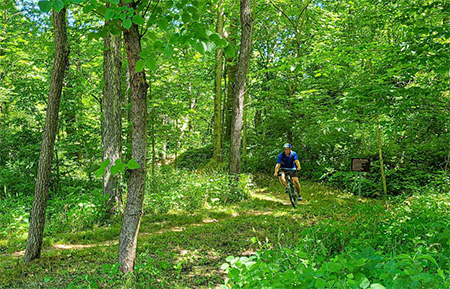 Lake of the Ozarks State Park
We made sure our itinerary included a visit to Lake of the Ozarks State Park, which is the largest and most visited park in Missouri. The park's 89 miles of shoreline and an almost 10-mile-long self-guided interpretive water trail make it a boater's paradise and a must-visit. If you are bringing your own boat or wanting to rent one, there are two full service marinas with boat launches and boat rentals to help get you out on the water. The park occupies most of the shoreline along the Grand Glaize Arm of the lake south of the Grand Glaize Bridge, so there were plenty of spots for us to explore and enjoy beautiful natural scenery. .
Not interested in boating? No worries. Lake of the Ozarks SP has adventures for land lovers too. There are 12 hiking trails across the park open to hikers and mountain bikers and horseback riding too. We loved hiking around Lake of the Ozarks SP and discovering gorgeous blufftop scenic views, like the ones we found on the Rocky Top trail, a 2.2 mile loop that's located near the Grand Glaize Marina.
Zipping through the Ozark glades on my mountain bike was an exhilarating way to cover ground on trails like the Honey Run trail system with over 10-miles of single track that garnered a full five-stars on Trail Forks. If you're not ready to give up the water, there are two sand swimming beaches, and if you need more shade and an escape from the heat, you can book a guided hand-held lantern tour at the park's Ozark Caverns show cave.
Ha Ha Tonka State Park
The Lake of the Ozarks' other state park, Ha Ha Tonka, is much more than an afterthought. What it lacks in land, it more than makes up for in luster. So much so in fact, that Conde Nast Traveler has called Ha Ha Tonka the most beautiful place in Missouri! The park is known for its castle ruins that sits high atop a bluff overlooking the Niangua Arm.
One might guess that a burned-out castle ruin has a tragic backstory, and you'd be right. Robert McClure Snyder began construction on the castle in 1905 only to die in a car crash in 1906. His son completed the project in the early 1920s just in time for the stock market crash. It struggled as a hotel during the Great Depression, only to burn to the ground during WWII. Perhaps it's best that guests can't enter the ruins, let alone spend the night, but the sunset views from atop the limestone bluff are the best on the lake!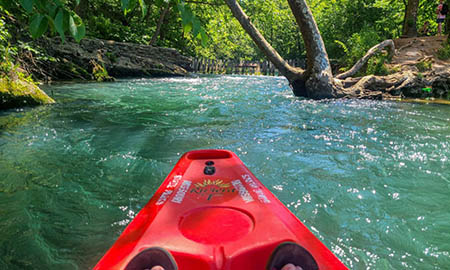 While Jenn and I both agreed the views from the bluff were breathtaking and well worth the visit alone, there were so many other things to do in Ha Ha Tonka State Park that we absolutely loved.. We took a short trek to the natural crystal blue Ha Ha Tonka Spring at the base of the bluff and felt like we were walking into another world. Plus, we discovered impressive karst features, like collapsed sinkholes and natural bridges scattered throughout the park's 15 miles of trails. There was a geological wonderland around every turn, making it easy to see why Ha Ha Tonka is known as Missouri's premiere showcase of karst geology.
As the day heated up, we headed out onto the water on the park's rental kayaks with the best kayak launch system we have ever used. We paddled up to where the cool blue springs emptied into the Ha Ha Tonka Spring cove and then to the mouth of the cove where it connected to the 13-mile Big Niangua River Trail. Best of all, the entire spring cove was wake free, so we were free to peacefully enjoy the beauty of Ha Ha Tonka by kayak.
Bridal Cave
Looking for a hot tip on a cool activity during Lake of the Ozarks warm summers? Or a good way to get out of the cold during the winter months? How about a guided tour through what we think is Missouri's most adventurous and beautiful show cave? It's the immense 'Veil' drapery that makes Bridal Cave unique. This monstrous formation is one of the largest cave formations by volume in the entire world.
Our tour guide took us around, under, and through this natural wonder as we worked our way to a crystal blue pool at the back of the cave. It's not wild caving by any stretch, but there are a couple of spots that were on the fun side of sporty. They say Bridal Cave has more formations per square foot than any other known cave or cavern in the United States. All we know is that it was beautiful.
Golf at the Lake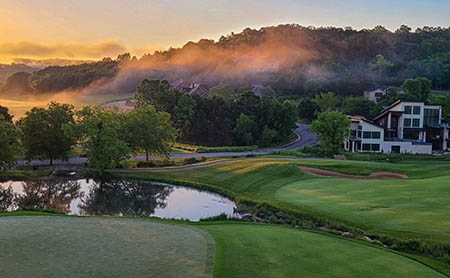 Another beautiful way to get out into nature is playing a round or two along the
Lake of the Ozarks Golf Trail
. The premier destination for golf in the Midwest. the Golf Trail's twelve area courses are carved out of the hills surrounding Lake of the Ozarks, with many of the signature holes featuring lake views. Master designers such as Arnold Palmer, Robert Trent Jones, Sr., Bruce Devlin, and Robert Von Hagge designed these courses for every level of golfer from beginners to experts that will challenge you to use all the clubs in your bag.
We had the pleasure of taking lessons from Jason Woods, Head Golf Professional at Old Kinderhook, and playing some holes with Jasen Jones, the Director of Hotel & Marketing. Old Kinderhook is conveniently located near Ha Ha Tonka State Park and Bridal Cave, so you could easily build an incredible day packed with a lot of variety out of all three destinations. Old Kinderhook's Tom Weiskopf signature course is a 6,726-yard par 71 that features elevation changes, lake views, and water hazards masterfully blended into the Ozark forests. I loved the beautiful lake views from the tee shot on hole 12 which had at least 100' of elevation gain above the green. I also enjoyed hole 18 - the most dramatic, memorable, and scenic of the course that played back to the club house as a par 5. Luckily, Jasen and I were playing a scramble format and he had a beautiful swing. I can say proudly that we used at least one of my balls between these two holes.
Lynch Hollow Cove
The big attraction at Lynch Hollow Cove in the quiet town of Sunrise Beach on the westside of the Lake is Franky & Louie's Beachfront Bar & Grill, which not surprisingly, has a beach, bar, and grill. What we did not expect is the fun Caribbean vibe that flows from every palapa and brightly colored beach chair. From the menu and the music to our toes in the sand, we felt like we were in the islands, if only for a minute. When we were at Frankie & Louie's it was almost easy to forget we're in the middle of the Heartland!
After lunch, we checked out Super Dave's Paddle Craft Adventures and met his adopted super duck, Elvis. Dave has a super deal for little ones who just want to try paddle boarding, but we wanted to SUP around the no wake Lynch Hollow Cove. Dave gave us quick instructions, and soon we were exploring all around the cove. We particularly liked sitting down on our boards, dangling our legs into the water, and daydreaming as we floated in quiet little bays just off the main channel.
Bagnell Dam Strip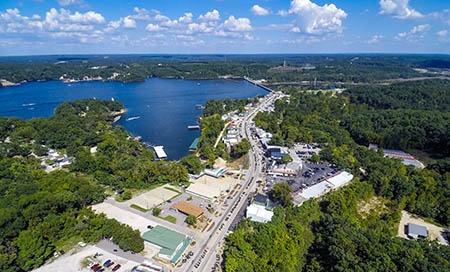 There would be no Lake of the Ozarks without Bagnell Dam, and no trip complete without visiting The Strip in Lake Ozark. Outdoor enthusiasts can still find adventures amongst the shopping, dining, and nostalgia. You can enjoy the views from the dam's scenic overlook before making your way down to the waterfront to book a parasailing trip with
Paradise Parasail
or a 90-minute scenic narrated cruise with
Celebration Cruises
, home to the lake's largest cruise boats. Yes, you'll be in a climate-controlled cabin eating a catered dinner. No, it's not squeezing through Bridal Cave or hiking in a state park, but you're still out in nature and enjoying the best recreational lake in America!
We liked exploring around The Strip, which felt like we were on a walking road trip. Our route took us by "roadside oddities" like the 1,000-year-old redwood log named The History Tree with markers identifying a timeline of major events in history. Of course, we can't leave out the towering fiberglass statue of Chief Bagnell, one of the few remaining Muffler Men in the world. Bagnell Dam was fun, quirky, and an absolutely enjoyable way to spend an afternoon.
Wrapping Up Our Lake of the Ozark Adventures
Adventures come in all shapes and sizes, from squeezing through tight holes in the Earth to air-conditioned cabins on luxurious cruise yachts, and Lake of the Ozark has them all. So, whether you're all about boats or biking, horses or hiking, there's an adventure on Lake of the Ozarks for you.
Author
Jenn and Ed Coleman make up Coleman Concierge. In a nutshell, they are a Huntsville-based Gen X couple sharing their stories of amazing adventures through activity-driven transformational and experiential travel.